The cost of SEO services varies depending on what is included. Most SEO projects in 2021 cost between $750-$2,000 per month based on the scope of the project. A one-time project will range between $5,000-$30,000 and hourly rates for consultants fall between $80-$200 per hour.
How much should I pay for SEO?
If you want to boost website traffic, reach more customers, and increase conversions, search engine optimization (SEO) can help.
When it comes to choosing an SEO online marketing partner and implementing SEO strategies, you'll likely want to know how much it costs.
Let's take a deep dive into the world of SEO pricing!
How much does the average SEO project cost?
While SEO is one of the most important types of digital marketing available to you, it is tough to estimate typical costs.
Given the wide range of campaigns, most SEO projects cost between $400/month to $10,000/month depending on level of service. These projects can range from working with an hourly consultant to hiring an agency for monthly SEO.
For perspective on this average, a small business with a 15-page website will typically be on the lower end of the spectrum while an ecommerce store with 50,000+ products should plan on a larger budget for SEO.
What determines SEO pricing?
Several factors determine SEO pricing, including:
Agency, contractor, or consultant's experience
Agency, contractor, or consultant's location
SEO pricing model, like monthly or hourly
Business size, like startup or enterprise
Scale of SEO strategy
Status of existing SEO strategy, like your backlink profile's strength
SEO goals
And more
You'll often find that the more experienced SEO providers, from agencies to consultants, have higher search engine optimization prices. Similarly, an SEO strategy with a bigger scale, like an enterprise-level plan, will see higher SEO costs.
SEO costs by SEO pricing model
Depending on the SEO services you choose, the scope of your project, and the agency you work with, you can expect to pay anywhere from $500 – $30,000 for SEO services.
When it comes to SEO pricing, most agencies follow one of these payment models: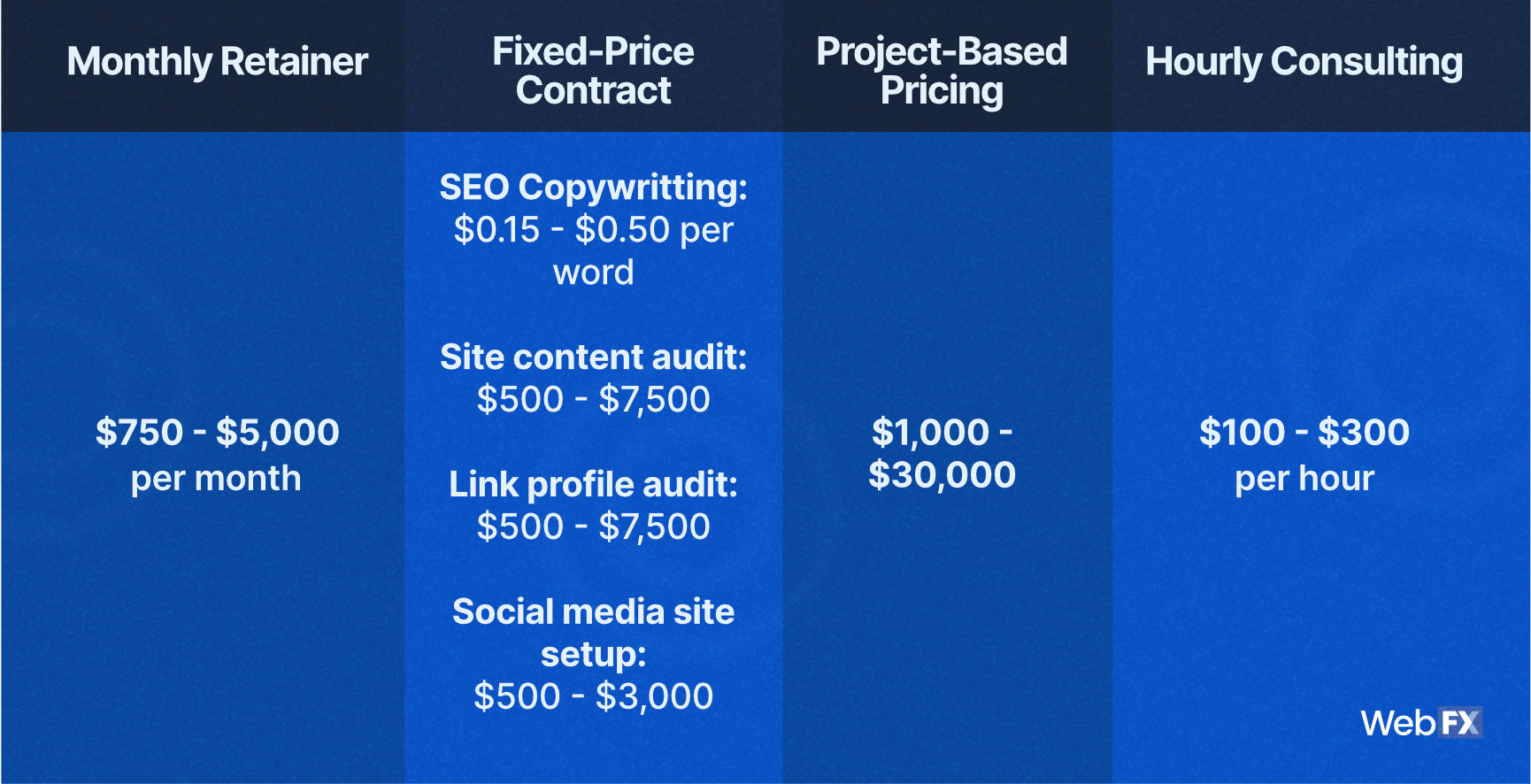 Monthly retainer
For the monthly retainer, clients will pay a monthly fee for selected SEO services. SEO costs for a monthly retainer plan range from $750 to $5000 per month. The average, however, is $750 to $2000 per month.
Fixed-price
The fixed-price contract services allow clients to sign a contract and pay a set fee for specific SEO services.
In most cases, fixed-price contract services will offer the following SEO services:
| | |
| --- | --- |
| Service | Average cost |
| SEO copywriting | $0.15 to $0.50 word |
| SEO content audit | $500 to $7500 |
| Link profile audit | $500 to $7500 |
| Social media site setup | $500 to $3000 |
Project-based
Project-based pricing is similar to contract-based services, but it allows clients to pay a determined fee for custom SEO projects. Project-based SEO services can cost anywhere from $1000 to $30,000. The average cost for project-based SEO services, however, is $5000 to $30,000.
Hourly
Hourly consulting refers to a contract in which clients pay agencies an hourly fee in exchange for SEO services. Hourly SEO consulting fees range from $100 to $300 per hour. The average, however, is $80 to $200 per hour.
Note: If SEO companies charge less than $750 per month for SEO services, you'll want to be careful. When it comes to SEO, you often get what you pay for with regards to results. Agencies that offer "cheap" SEO services often lack the resources and experience to help you earn the highest possible ROI.
It's also important to remember that no matter what plan you choose, SEO takes time — you won't see results overnight. That being said, SEO is extremely valuable, and it will position your business for long-term success.
You can rest assured that you'll earn an impressive ROI for SEO services when working with a top agency like WebFX.
How much should you spend on SEO services?
The amount you pay for SEO services will depend on the size of your business and the extent of services you require.
While SEO costs vary from agency to agency, it's important to remember that you often get what you pay for when it comes to SEO services.
When choosing an SEO agency, don't compromise quality for "cheap" SEO services.
Like many other professional services industries, ongoing consultation with an industry leader in SEO will be more expensive than with an inexperienced and unproven firm.
In the end, your goals should determine precisely how much you should spend on SEO services.
The bigger your website, the more extensive the SEO project will be. This means you should expect to pay more for SEO services.
It's also important to remember that SEO is an ongoing strategy.
Instead of investing in one-time SEO strategies, you should think about a monthly SEO plan that will keep your site fresh and allow it to continually rank at the top of search results.
Is there a standard for SEO prices in 2021?
Unfortunately, there is no industry standard for average SEO prices.
This means any firm can claim they do SEO and charge whatever prices they desire. The burden is ultimately left to the consumer to determine a fair SEO price, especially if there is an ongoing charge for monthly SEO plans.
This fact only furthers the importance of understanding what you will get for your Internet marketing dollars. That way, you can conclude whether it's worth the investment based on the return you expect. Ultimately though, your decision should be based on the overall, long-term value of the SEO services included.
The huge variety of opportunities that SEO provides makes it more important to know how to price SEO.